Aluminum Welding in Kenosha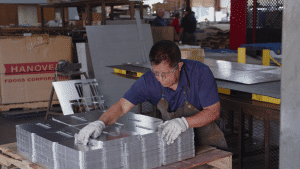 Flexibility is our specialty
Whether it is sheet metal or structural steel, stainless steel or aluminum, tubular or plate stock, we can produce your part or product.
Your Parts, Your Way
Expert Aluminum Welding in Kenosha
C R I can be your business partner that can craft your vision into quality and durable metal components. Whether you are looking for parts using aluminum, stainless steel, structural steel, or sheet metal we are the company you can count on.   Our specialty products also include neck rings and industrial clamps.  Choose from our extensive stock or design your own. With our in-house craftsmen and leading edge technology, we will provide you with a short lead time and excellent customer service.
Give us a call for your aluminum welding in Kenosha project!
Fabrication Capacity / Features
CNC press brakes with a total forming/punching capacity of 110 tons

Punch presses with a maximum of 250 tons

Our team consists of talented and certified TIG and MIG welders
Contact Us
Choose quality & experience for aluminum welding in Kenosha
Our metal welding, forming and fabrication work  is second to none.
CRI Fabricators is a full service fabricating company that can take on any industrial project.  We can help make your customized equipment and tools to increase productivity within your business. This can help your business grow! We'd love to take on your entire project – from design, manufacture, finishing and shipping.
We are committed to providing you with:
Complete accuracy
Cost savings
Short lead time
Customer satisfaction is our #1 goal!